Fun. Romantic. Stress-Free!
Planning a wedding can be hard, we'll try to make things a little easier. Our promise to you is that you'll leave your wedding feeling like nothing could have gone better, that's just one of our passionate differences from other 99% of other entertainment companies. It's our way of saying we are committed to your definition of excellence because we both want the same result; an awesome wedding! You're entrusting us with one of the most important moments in your life. We understand and don't take it lightly. That's why we are backing it up with a 100% Guarantee. That's how certain we are of our level of service, talent, and wedding experience. That's right! We both know it's not about the money; It's about the confidence and certainty that you made the best choice for your wedding. We take our job extremely seriously. That's the reason we can make such a promise. We'll work with you every step of the way to make sure that your dream wedding comes to life.
Excellence, No Excuses!
Pre-Wedding-Planning
He proposed! From then, up to the wedding day, you've entered a world of planning. Everyone loves the idea of a beautiful, special, and fun wedding. Until you actually start planning, it's a hugely important day, so that means it requires planning, organizing, timing, and problem solving to make it a success. To help make your special day run smoothly, we facilitate this process by giving you the tools that will make planning your wedding fun and easy. Two-to-three weeks before your wedding we will set a meeting and go over every single detail to make your wedding exactly how you envisioned it.
Ceremony
It's time, The ceremony. The sacred moment in your life that cements the promises of your new future. We will provide you with a quality sound system and our professional sound engineers will be controlling the sound and music, to ensure your sacred moments go uninterrupted. Together, we'll go over the ceremony music list in advance so we can play the right tune at the right time.
Cocktails
Your guests favorite part! Feel free to relax and savor the cocktails and hors d'oeuvres and we'll take care of the rest. During cocktail hour, your guest will enjoy a fantastic mix of songs created to set the perfect atmosphere. Cocktail hour is a great time to play music that you can enjoy and vibe to. We will create a custom mix filled with the requests music of your choice.
Reception
Party Time! This is the special moment to celebrate with all your friends, family and loved ones! By having AFTERDARK DJ's at your wedding, you're setting yourself up for a successful celebration that will have your guest talking! We know how to coordinate your event. We are all about maximizing dance time and minimizing the filler. We'll make sure to carefully choose the right songs to play and to keep your dance floor moving. Careful timeline coordination with your vendors, an awesome song selection, an exciting grand entrance, and a smooth, stress-free celebration is what we promise you.
5-Step Process
1. Contact us
Contact us
via our website, e-mail, text, or call. Check availability, pricing, and to schedule a consultation.
2. Meet with us
Schedule a consultation with us at our office (Palmdale, CA), to discuss your celebration, pricing, and to see if we are the right fit!
3. Book with us
Let us know you're ready to move forward! To secure the date a signed contract and a 30% deposit is required.
4. Plan with us
During the planning phase we are here to help you for every step of the way. Use our online portal to begin planning your celebration (choose your music and create a timeline of events). We will meet 2-3 weeks before the event to finalize every single detail of your celebration together. We will go over your music selection, event festivities, and timeline of events.
5. Party Time!
Watch as your vision finally comes to life! Sit back, relax, and enjoy your special day with family & friends.
A MAGICAL
COMBINATION
Talent & Technology
Looking to spice up your event? AED has you covered. The things we can do are truly only limited by imagination.
We want you to think big. To be different. And most of all, to be awesome.
If you've seen it at an event (or even dreamed it), we can help you make it happen. It's what we do.
Every event enhancement below is available a la carte, and can be totally customized to fit your event, theme, and budget.
Even if you don't see what you imagined below, we want to hear about it. We probably still can make it happen. Take a minute to look through our enhancements and decide on what works best for your amazing event. We'll take it from there.
AED RECOMMENDS
INDOOR FIREWORKS
The latest feature enhancement offering, Indoor Sparkler Fountain. Imagine your grand entrance, your first dance or your packed dance floor complimented by a beautiful display of cold sparks that do not produce smoke, are non toxic and add a dramatic WOW factor. We offer 2 up to 4 total fixtures ignite during your milestone moment to add a bit of visual awesome.
If you are interested in learning more about our approved use indoor cold spark firework displays, please give us a call.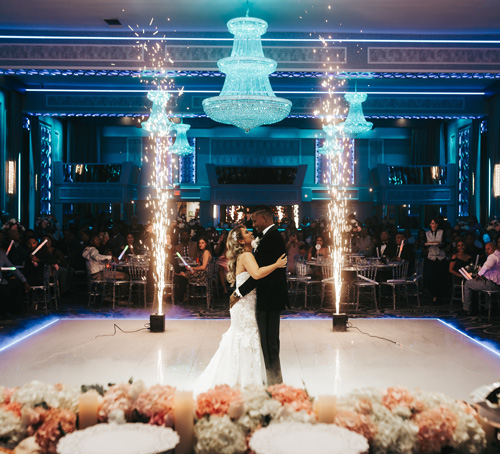 AED RECOMMENDS
DANCING ON A CLOUD
The perfect way to create a Cinderella-like moment during your first dance, father and daughter dance, or any other special dance at your event or celebration.
It's all about impact and this is one way to personalize your moment.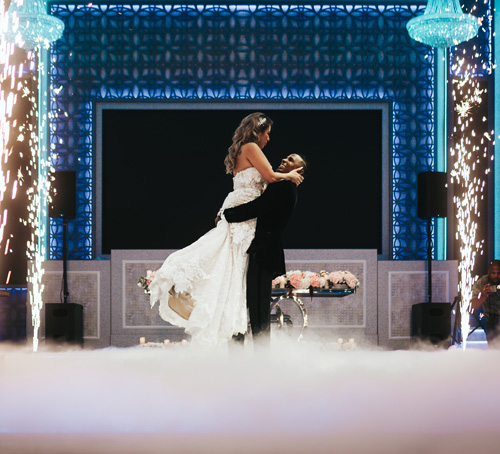 Over 1000+ Weddings Performed
¡Hablamos Español Y Tocamos Musica Latina!
We are one of the few companies in our area and surroundings cities that offers Spanish bilingual DJ and MC services for weddings. Not only do we know the Latino traditions but also the music.
Tocamos toda tu musica favorita.
Salsa • Bachata • Merengue • Reggaeton • Rock • Cumbia • Dembow • Banda • Y Mucho Mas
It does not matter if you want your entire event in Spanish, in English or an even 50/50 split in Spanglish, we'll make it happen. We will personally make sure all your guest feel right at home and eager to keep dancing!
Somos una de las pocas compañías en nuestra área base de Los Angeles, Ca que ofrece servicios bilingües de DJ y Maestro de Ceremonias. No solo conocemos las tradiciones latinas, sino también la música! No importa si quieres tu evento completamente en español o 50/50, estamos para servirles.
Somos la compañía número 1 en fiestas bilingües en nuestra area.
¡Nosotros nos aseguraremos que tus invitados estén siempre bailando, al ritmo latino!
Pricing
Most wedding vendors are very secretive when it comes to pricing. We've got nothing to hide. We believe we are more than reasonably priced based on the level of entertainment, professionalism, and years of experience in the industry. On average our couples spend between $2500 and $4500. Check out our core pricing below:
Wedding Packages start as low as $1799 
Includes: 4 Hour Wedding Reception • DJ / MC (Bilingual) w/(2) Wireless Mic's • Full High Quality Sound System • Wedding Dance Mix • (2) Moving Heads Dance Floor Lighting & Music Planner
Any Extra DJ Hours $299/hr
Each Additional Enhancement Services starting at $299
Dancing on the Clouds w/ Fogger Combo • Cold Sparkler Fountains • Monogram • From 10 up to 20 Wireless Up-lighting • Ceremony & Cocktail Hour
Fully Licensed & Insured • Competitive • Trustworthy
Price Subject to Change Book Fast!!